There are a lot of screen recorder apps in the Play Store but it is tough to get the best screen recorder for your android within your preference. In this article, you will get 10 best screen recording apps along with the most attractive features of each. I hope you will get your best screen recorder which will cover your demands. And as always, you will get one recommendation from me at the end of this article. If you do not have a lot of time you can scroll down to the end of this article. I hope It will save your time.
This is a world-famous screen recorder app. It has some great features which make it famous. Mobizen is a simple and lightweight app and so the general users can use this easily. You can use all the features of this app 100% freely. The screen can be captured with the external or internal microphone.
Total Download: 100 Million+ ( This data was collected on 30 November 2020 )
Main Features:
Clear screen recording with HD quality (1080p Resolution, 12.0Mbps Quality, 60 FPS)
Recording video with no time limitation
Pause recording when need
Add face cam while recording screen
Trimming, Cutting & Editing freely
Adding Intro and Outro to video
Using local storage only to save screen recordings
Here are some features that are provided by Mobizen only:
No root required above Android version 4.4
Recording, screen capturing & editing are fully free
Removing watermark freely
If you want to make a perfect video, this app is best for you I guess.
AZ means A to Z. That means a lot of features available on this app. You will find some amazing features which you need in this modern world. This is a time-saving screen recorder app among all other apps. It has an elegant user experience design and so it becomes easy to use for everyone. The main focus of AZ screen recorder is to provide all tools that help anyone to make tutorial videos and streaming live during screen recording. But this does not mean that it is built for tutorial makers only. It is for all.
Total Download: 50 Million ( This data was collected on 30 November 2020 )
Features:
HD & FHD video quality
Customizable resolution, bit-rate, screen orientation
Adding face cam to video
Highlighting screen touch
Pausing & Resuming while recording
Editing Video (Trim, Cut, Add effect)
NOT require root access
No time limit
Watermark free
Ad free
One-click start and stop
Most amazing feature:
Live screencasting during record screen
Drawing on screen during recording
This is the most amazing screen recorder app I have seen in the Play Store. It has a lot of free features that are premium in other screen recorder apps. This is the reason why it is downloaded by 10 Million users. Though the interface of this is not so good, It provides a number of unique tools which are not available in other apps. Thus it becomes popular nowadays. Sometimes you might feel disturbed but you will love this for its awesome features especially if you are a tutorial maker and live streamers. This app provides whiteboard for making tutorial and you can broadcast live. Now comes to its bullet features.
Total Download: 10 Million ( This data was collected on 30 November 2020 )
Features:
Video Resolution: Maximum
2220×1080 px & Minimum 426×240 px
Frame Rate up to 60 fps
Bit rate up to 12 Mbps
Watermark enabling and disabling freely
Showing touches during screen recording
Livestream Unlimited (YouTube, Facebook Twitch.)
Video Editing
Drawing text on the screen while recording
Video compression
All the features are good enough except editing features. You will not get enough tools for editing your video. But you can use any other video editor if you do not like its default editor and the developer may update the editing tools thinking user's preference.
Du Recorder is one of the most reviewed apps among all screen recording app. Unfortunately, this app is banned from the play store. Maybe they will come back after some days. Though this app breaches some policy of google, I can not give it away from listing as the best screen recording app. There are some cool features in this app which make it popular. The interface of this app is elegant and it is convenient to use. You will find some extra features including some common that are available in all other apps almost. This game is mainly developed for the live cast since it has the most advanced features for broadcast. You can read the audience's comments while you are in live.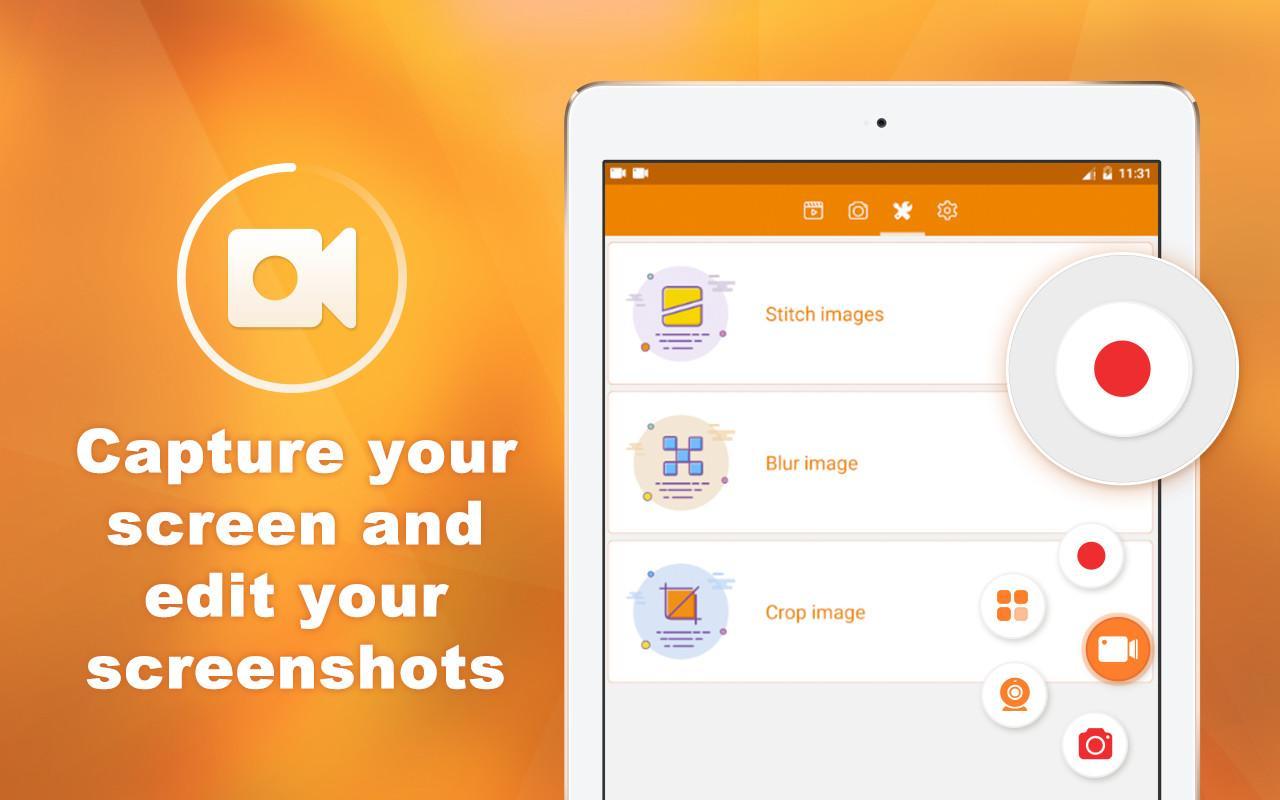 Features:
Customizable resolutions, frame rates, and bit rates
Pause/resume screen recording
Enable face-cam
Internal & External microphone for record voice
Screen touch highlighting
Stop recording by shaking
Using Internal storage / SD card
Brush to draw on the screen
GIF making
Livestream to YouTube, Facebook & Twitch
I hope now you can realize why I had to enlist this app to the top 10 screen recording app list. Since the app is not in the play store right now, you can download it from Apk Pure. But remember do not give such permission if you suspect anything which does not go with your privacy.
This one is an app which is faster than other app and there is no ad in this app. The user interface is clean and convenient to use. Video quality is good enough. It is a completely free app and does not have any ad. So you will find a clean interface. Now comes to the features. All the features of this app are mainly for recording your screen and edit only. You will not get a lot of tools like other apps. Since it does not show any ad, you can not expect much from this app. But overall this is a cool app for screen recording, especially those who do not like to see Ad at all.
Features:
Support face-cam (both front and back) while recording.
Support Magic Button to stop or pause
Edit overlay feature
Trim your video
Record sound of MIC when record screen video
Insert logo text / logo image
Day/Night theme
These are the main feature of this app. Though It has less functionality, I use this app unless I do not need to broadcast. So this is assumed that it is an app for those who do not need advanced features.
ADV is another app which comes with all essential tools. It can record your screen with high resolution and bit rate. Bit rate, Frame rate & resolution are customizable with your own preference. You can start and pause the record at any time. Drawing on any screen is also available in this app.
Total Download: 5 Million ( This data was collected on 30 November 2020 )
Features:
Offer 2 engines for recording (Default and Advanced)
Pause Recording (Requires Advanced Engine)
Drawing with colorful brush
Using Front or Back Camera while recording
Adding text to video
Trim Video
If your android version is lower than MarshMallow, this app might work best for your phone. It is optimized enough for low version and low ram. So, In that case, it gives you the best result.
First of all this app does not provide live screen recording. You can use it if you do not need to broadcast your screen to the world. The screen can be captured with High Resolution and Frame Rate. It provides brush tools to draw on the screen. You can also make gifs and edit videos. It allows you to use a watermark on your video but by default no watermark shows. The interface is like all other recording apps with the most common features. Anyone can use it for its simple UI.
Total Download: 5 Million ( This data was collected on 30 November 2020 )
Features:
Full HD Screen Recording with 1080P, 12Mbps, 60FPS
Pause/resume by floating buttons
Shake phone to stop recording
No Time Limitation
Facecam Recorder
Support portrait, landscape & auto screen record mode
Display click operations
Custom Watermark
Drawing on screen
Video Editor: Video Cut / Trim / Merge videos
Add background music
Compress video
Animated GIF Maker
Screen Recorder V Recorder – Audio, Video Editor is another powerful screen recorder but one thing that you may not like is watermark is not removable. With this app, you can easily edit your gaming videos perfectly. The quality of the video when you record is a little blurry. It allows you to use facecam if you want. Also, it is not laggy and covered with smooth features. Overall this app is good but should be more updated and fixed bugs.
Total Downloads: 50 Million ( This data was collected on 30 November 2020 )
Feature:
HD video: 1440p Resolution, 12.0Mbps Quality, 60 FPS
Simple User Interface
Professional Video Editing Cut/merge/trim/split/reverse/duplicate/rotate/collage/compress/transition/crop
Drawing on screen
Total Download: 1 Billion ( This data was collected on 30 November 2020 )
If you need a screen recorder, then google play games comes to the first. It allows you to upload your game to youtube. Most of the people do not know about screen recording features of google play games. You do not need to install any app for this. If your operating system is Android (Without Chinese Phone), you will find google play games installed on your phone by default.
For using google play game screen recording, you just have to open the apps and select a game you want to record. Then you will find a video icon at the top corner of that screen. To proceed just click on that icon and choose the resolution. Yeah. you got it. You can turn off and on your front camera by clicking on the camera icon. To start recording just click on the red-colored record button. To stop, just click on your camera preview and you will see the button to stop.
Recorded videos will be saved in your local storage and you will get your videos from the gallery easily. However, you can also upload your video to youtube directly.
If you are a gamer and do not want any trouble, then this app suits you perfectly.
Now, which one will I recommend?
I personally recommend you to use DU screen recorder app as you can get all the most advanced features in that. Even I personally use it for recording screen.
You can use any of the app among these 9 best screen recording apps. If you face any kind of problem, put it on the comment. I will reply to you as soon as possible.
Troubleshooting:
Screen recorder will not work on a device if you do not give the required permissions that the app needs. Sometimes you may reject permission and that occurs problem. In that case, you just have to go to the app settings and give all permission that is required. That's it. Now open the app and it will work perfectly.
For XIAOMI devices, do the following: You must go to security => Choose permission => Permission => Screen Recorder and turn on pop up window. Follow up, you go to security => Permission => AutoStart => Turn on Screen Recorder. Press recent app button and look at Screen Recorder, if the Recorder hasn't locked (lock icon over Screen Recorder), please pull down it -> OK
To prevent interruption, it is suggested to you freeze some big apps in the background process and authorize the screen recorder to obtain the permission "Whitelist". Then check your phone's battery saver doesn't restrict the app & open the phone background task, lock the recorder to prevent the app activity from being stopped by the android system.
Find Out us
Facebook: https://www.facebook.com/pastfutur.official
Twitter: https://twitter.com/PastFutur